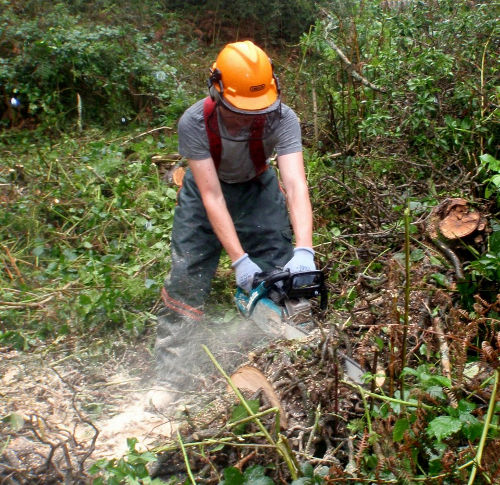 Our services
Tree removal
Tree cutting
Tree pruning
Tree felling
Tree pollarding
Shrub pruning
Fallen tree clearance
Hazardous branch removal
Cardigan Tree Fellas: providing tree services in West Wales and North Pembrokeshire
Cardigan Tree Fellas provide tree services in the Cardigan Bay area of South Ceredigion, West Wales.
We offer a wide range of tree services for private and domestic clients, delivered to a professional standard at affordable rates. With up to date professional qualifications, careful adherence to safe working practices and public liability insurance, Cardigan Tree Fellas offer peace of mind.
We leave the site tidy, clearing all waste. We take care to use environmentally sustainable methods, recycling and reusing where possible.
We welcome all enquiries including enquiries about garden tree and shrub pruning, removal of overhanging branches near buildings, as well as tree felling and cutting up fallen trees.
Cardigan Tree Fellas is run by Thomas Witt who has worked in the South Ceredigion area for nearly 20 years, building a base of long standing clients who value honesty, reliability and careful work performed in a friendly and cheerful manner.
Cardigan Tree Fellas offer: Cardigan tree services, Newcastle Emlyn tree services, Ceredigion tree services, Tree services in the Teifi Valley, West Wales tree services, Cardigan Bay tree trimming
Testimonials
"I would recommend Thomas and Cardigan Tree Fellas to anyone considering doing some tree work. The work was carried out carefully and efficiently. Pricing was very reasonable, and I was really impressed with the care and respect paid to the trees. Thomas is not someone who will just chop up your trees without thought, he will make every effort to preserve what he can for the future whilst doing what is necessary for the job in hand. Thank you Thomas, great job!&rdquo - C Martin, Martins TLC, Rhydlewis
"We have used Thomas' services for many years and have found him to always be very pleasant and willing to listen carefully to what we want done. Nothing is too much trouble and he is always cheerful. We wouldn't hesitate to recommend him." - R & S Smith, Tan-y-groes
"Thank you for the really good and careful job you did of taking down the ash tree near my house and cutting back the branches from the overgrown hedge. It's great to get more light in the house and fewer leaves in the gutters! Thank you for clearing up so thoroughly afterwards too. I think your service is excellent value. I expect to use it again and I'll recommend you to my friends." - J Locke, Brongest
"We have employed Thomas for many years on the farm and he is a careful and methodical worker. His on-farm training in the locality lends great practicality to his approach to a task and he is reliable when operating machinery. Having assisted at the recent dismantling of a tree which was in danger of collapsing on a shed roof, I would have no hesitation in recommending him as a tree surgeon. Steve, Joanna and I wish him every success with his new venture." - Sally Learoyd Cwmbern Grazing and Livery